You crazy get up at 3:30 in the morning to go shop on Black Friday people. I say this with a mix of amazement and awe. I just hope it was worth it, although I can't imagine how - unless they are selling nanny baristas on the cheap. Seriously, I am morbidly curious, as one who shops 80% online, what you found on your crack o' dawn adventures...so please share. About the only thing that would cause me to wake up that early is 1. if i never went to sleep to start with and/or 2. if i were camping out for coveted front row tickets to see u2 in concert, the idea alone leaves the hubs mortified I'm sure. I'd be so much better at it now that I'm old...but I digress.
Well, here are some good things about being sick the last week or so. I've read a lot of books. I've lost a few lbs. I've gotten a ridiculous amount of sleep. I haven't had to cook or clean. All good stuff here. Except for the coughing fits. I'm on the mend which means by tomorrow all of the above benefits will be erased. A good reminder to slow down AND continue to shop online.
This brings me to the 6th(?) day of enabling -
bright october has free shipping over $60 and if you enter the code snowflakes you get an extra 10% off. they have neat-o wooden/handmade european toys. A little pricey, but if my kids were builders I'd be getting them this.
i'm a little ga-ga over this at Williams Sonoma. i think the kids would like me to have one, no?
I seriously love this author and this book is lovely in every way:
a pleasure to read aloud to the kiddos over and over.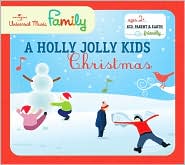 this appears to have songs from those Xmas kids movies - Burl Ives here we come.
Many thanks to my pregnant sis in law for cooking up A LOT of yummy food yesterday. MMmm tasty!
The End.